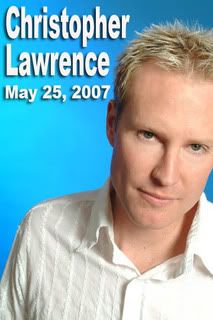 Fresh from taking fourth place in the DJ Magazine's highly coveted 'Top 100' poll in 2006, on March 19th American superstar DJ Christopher Lawrence dons his thermals, downs his vodka and joins forces with Sheffield clubbing institution Gatecrasher, for the release of their phenomenal 'Live In Moscow' compilation.
'Live In Moscow' is the first in a new series of DJ-led mix albums and somehow sees Lawrence capturing his inimitable energy behind the decks on wax, live from the superb Gaudi Arena club in Moscow. Ripping his way through a two CD showcase of underground trance, the US legend gives a master class in starting a party.
Hour One mixes the likes of Dan Stone's hard hitting stomper of a track 'Made in Bahrain' and Vibrasphere's euphoric trancer 'Landmark' with scorching, ferocious synths from Basic vs Echotek's 'Mind Factor'. Hour Two unleashes the legendary John 00 Fleming's anthemic collaboration with Lawrence on 'Beyond the Limit' swiftly followed by the pulsing bass line and driving melody of 'Rasa Lila'. Former head of Tidy Trax, Lee Haslam, also features as he embarks on his first foray in to straight up trance with the bouncy and energetic tracks 'The Future' and 'Checkmate'.
Once an outsider in a scene dominated by European and UK DJs, Christopher Lawrence is now considered one of the key global players in international dance music, receiving numerous awards. Described as the "biggest DJ in the USA" by Radio One, Christopher is most definitely America's leading dance music export, playing tough techno trance sets on the main stage of the world's biggest festivals and superclubs. He has played the famed Coachella festival more than any other DJ, and is the only US DJ to have been invited to headline all three of the inaugural Ministry of Sound, Cream and Gatecrasher tours of America.
Since its creation in 1993, Gatecrasher has rapidly become the UK's most outstanding and influential dance club and youth culture brand, changing the face of club culture globally.
From ground-breaking events such as the Millennium Eve at the Don Valley Stadium, where 25,000 people saw in the New Year to the block rocking beats of the Chemical Brothers and the 50,000 capacity Summer Sound System festivals in Oxfordshire through to the hugely successful Gatecrasher Ibiza Live at Eden last summer, this global institution keeps going from strength to strength, with this its first album release of the year.
2007 sees a series of events kicking of with Crasher who are set to take the roof off Media (Nottingham) on Saturday 3rd March with a stunning global broadcast, which is set to be beamed across 50 countries at laser-light speed with BBC Radio 1's Judge Jules at the controls.
In the world of international dance music, Christopher Lawrence has carved himself out as a true leader and with superclub Gatecrasher at the helm, 'Made in Moscow' looks destined to become a must-have for all trance fans.
Tracks:
Hour One
1. Activa - Perception
2. Dan Stone - Made In Bahrain
3. Kaveh Azizi Presents Rythmia - Tabriz
4. Astralis - Solar Flare
5. Vibrasphere - Landmark
6. U-Reckon - Dominator
7. Sunrize Vs Magnetikfusion - Offender
9. Sunrize - Connexions
10. Basic Vs Echotek - Mind Factor
11. Pleidians - Vimano Pt 2
Hour Two
1. Nuclear Device - New Technologies
2. Tikal - Experience
3. Project FM - Kickwave
4. Christopher Lawrence & John 00 Fleming - Beyond The Limit (Nicholas Bennison Remix)
5. Protoculture - Driven
6. John 00 Fleming - Rasa Lila (jay Selway Cyzum Mix)
7. Lee Haslam - The Future
8. Lee Haslam - Checkmate
9. John 00 Fleming & The Digital Blonde - Fused (Jay Selway Mix)
10. Nick Rowland - Awakening
11. Jussi Soro - Backlash
Dont forget to check out this GREAT CD!