Archive of "Riders of the Plastic Groove" & "Technodrome"
airing Fridays 8:00pm - 10:00pm pst.
on 88.9fm KUCI in Irvine and on the web at www.kuci.org/riders.
We also stream on iTunes!
Saturday, March 18, 2006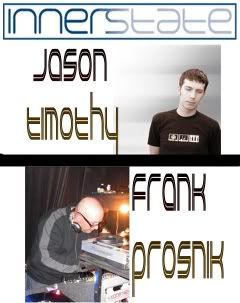 Innerstate began their musical endeavors in the late 80's, playing guitars and keyboards in the "Duran Duran / Cure / Love and Rockets / Depeche Mode" influenced era. In the early 90's, with much influence from the Manchester "britpop / shoegaze" scene and the early rave movements, they reinvented themselves as programmers and started toying around with beats. By the mid 90's, artists like The Orb, Chemical Brothers, Orbital, and Underworld drove Jason Timothy to completely drop the guitar and focus completely on electronic music, and formed an early breakbeat team with Kelly G (aka Nikkshifter). It was around this time that Jason started toying around with DJ'ing, and by 2001 ran into old friend and current partner Frank Prosnik to form "Innerstate".
Making agressive main floor stormers full of sinister stabs and sweeping melodies on one end, and beautiful uplifting, hypnotic and techy chuggers on the other end, Innerstate takes influence from the likes of Pink Floyd, Tangerine Dream, Sigur Ros, The Pixies, Frankie Goes to Hollywood, along with the more obvious progressive, techno, tribal, tech house and trance influences.
Innerstate supporters have spanned top artists including Hernan Cattaneo, John Digweed, Nick Warren and Jody Wisternof (Way Out West), Taylor, D:fuse, Tigerhook, and the Low End Specialists.
Contact Info
Jason Timothy
http://www.myspace.com/djjasontimothy
Frank Prosnik
http://www.myspace.com/innerstate
Air date 03-17-2006
Riders Of The Plastic Groove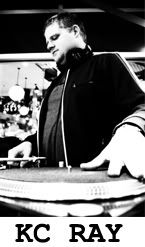 KC RAY
Growing up in Missouri, Kc got his start in the club scene early in life, helping out in the nightclub his father managed. "I think that is where the fascination started" says Kc. Kc moved to Colorado and worked his way in to being a successful sound engineer. The djing thing just sort of happened from there. Kc became friends with local dj and started playing himself. He has not looked back since then holding down residency at 8150 for several years. Playing along side dj's Christopher Lawrence, Jon Bishop, and Dave Ralph… as well as headlining on his nights. He has been a part of such production companies as liquid soul and new direction. Kc maybe new to Vegas but is already leaving his mark, you may have seen him playing at RA Sushi, Curve, Risqué and others. Kc is a believer in positive energy. He plays because he love the music and he wants the crowd to love it too. His blend of House, Progressive, Electro and other sounds gives Kc his unique style. You never know what you will hear next with Kc you just know it will be good. For Booking info contact: djkcray@hotmail.com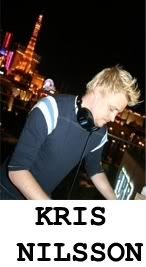 KRIS NILSSON
Kris Nilsson is one of the fastest growing house DJs in Las Vegas since moving there in 2002 from Colorado. Growing up in the small town Breckenridge, Kris never really was introduced to night life. That was until he took a job as head sound engineer on a tour that took him to Europe. Being in a new place with new people was such a amazing experience, until he discovered the club world. Kris was stopped in his tracks at the first club he attended. Judge Jules was spinning while two thousand dancing screaming fans were getting there groove on. For the next year Kris studied and learned how such a great energy and sound could be created by putting two records together. After about a year the tour ended and it was time for Kris to come home. The first thing he did when he got back was a set of turntables. In the summer of 2002 Kris moved to Las Vegas, he began his career as a DJ about eight months after when he was asked to cover a weekend at a club called Curve in the Aladdin Hotel, Las Vegas. Shortly after Kris was offered a Friday and Saturday residency at Curve. He started playing at local clubs all over Vegas & building a bigger fan base after each set. Over the next couple of years Kris has had several resident DJ spots, Curve at the Aladdin Hotel, Tangerine nightclub in Treasure Island, RA Sushi in the Fashion Show Mall, and Drai's after hours in the Barbary Cost. For Booking info contact: krisnilsson@cox.net
KC Ray & Kris Nillson on Riders Of The Plastic Groove on March 03, 2006